AES POWERPOINT TEMPLATES
Compiled dated, old text heavy AccuWeather PowerPoint templates and transformed them into Modern image heavy PowerPoint presentations based on a new branded template.
PowerPoint templates may seem unimportant but that was far from the truth with the AccuWeather PowerPoint templates. My boss asked me to compile the various outdated PowerPoint presentations and work on creating a modern visually compelling PowerPoint template for use by not only our Analytics team but also the wider AccuWeather Sales, Administration, and Meteorology teams based on a new branded basic template from Marketing. As is often the case, people tend to put too much information on a PowerPoint slide which can be highly distracting for the presentation audience. The typical AccuWeather audience includes the public, webinar attendees, potential clients, and current clients. We want the audience's primary focus to be on the presenter, and NOT on the slides. By going with an image heavy slideshow with minimal information, we hope to accomplish this focus redirection.
I started with a dozen or more old style PowerPoint presentations and worked to compile those into clear, focused templates that covered various uniquely branded business units and departments. I was able to narrow any presentation into these templates: AccuWeather branded, AccuWeather Enterprise Solutions branded, AccuWeather D3 branded, and Impact Indicator branded. These old style templates took plenty of time to develop and ended up being a waste of my time/energy when we finally decided to go the route of the modern, image heavy templates. But I am so much happier with the new ones that I don't mind the time spent on the old ones. Below are two examples of these old templates along with their modern image heavy counterpart.
After my boss did a presentation for a client that was a blend of the old text heavy slides with some of the new modern image heavy slides, we decided to create new modern image heavy PowerPoint templates that expanded on the new slides of that client presentation. AccuWeather Marketing provided the images and some of the graphics, plus approved the wording and statistics used in the presentation. My responsibilities included adding the needed information to make it a full, usable template for many different scenarios, building and standardizing the Slide Master and layouts, building slides with often used information from the old templates, fine tuning the look and feel of the slides, compiling/adding/editing the optional speaker's script that accompanies the majority of the slides, and working to make the templates as user friendly and easy to use for AccuWeather staff. We want AccuWeather presentations to focus the audience's attention primarily on the speaker and not on reading the PowerPoint slides during the presentation.
Finally, I plan to help train staff on best practice use for the templates to make sure that their necessary and added slides particular to that presentation still follow the standardized format of these templates.
Accuweather enterprise solutions GENERIC Powerpoint TEMPLATE
Please feel free to peruse these slide shows. I hope you can see the vast improve I made to the template and the ease for staff to tailor it to their specific presentation.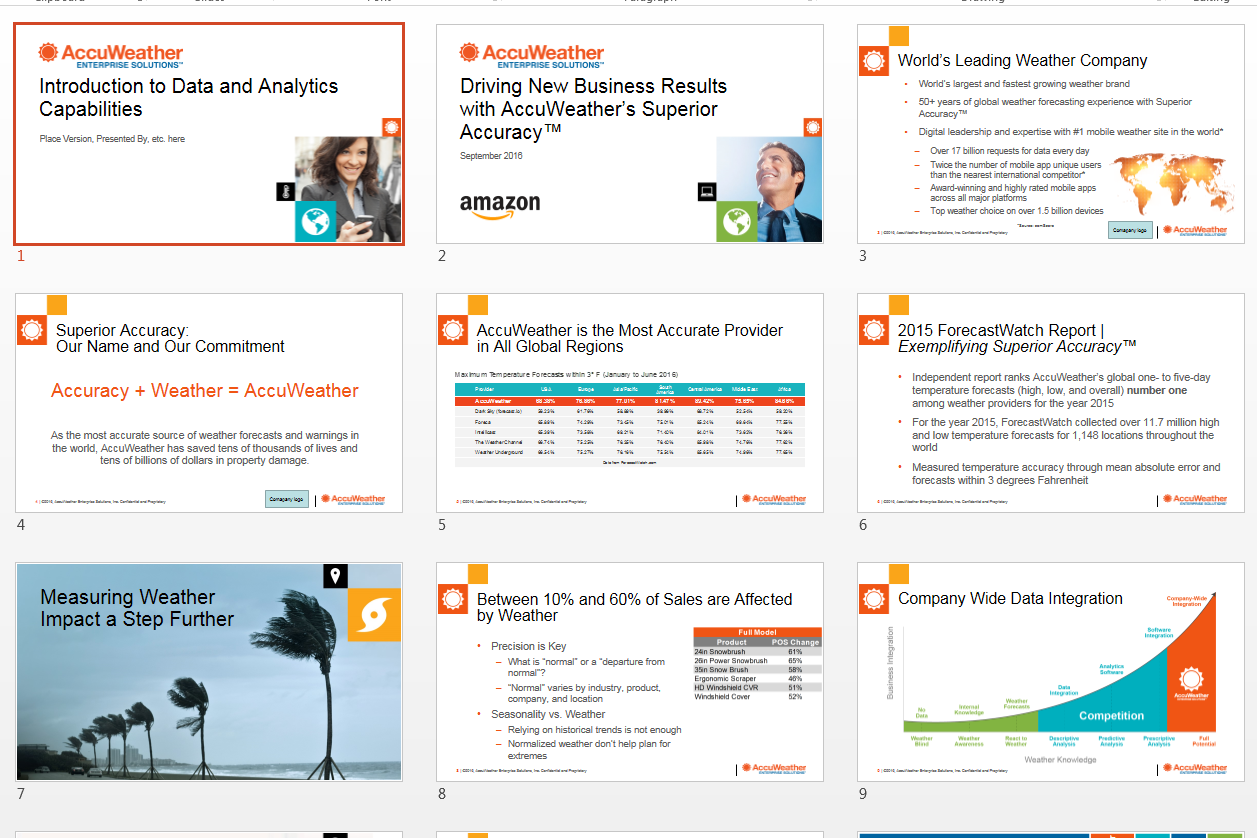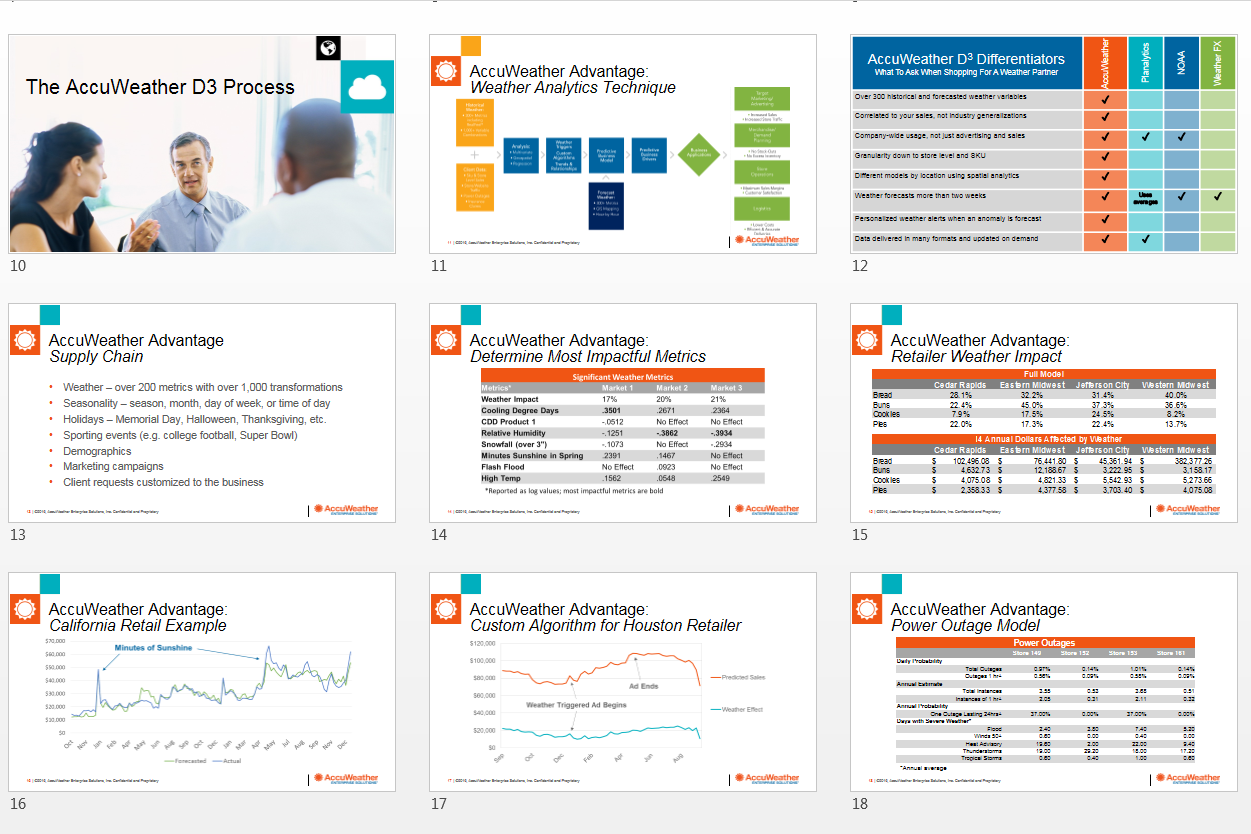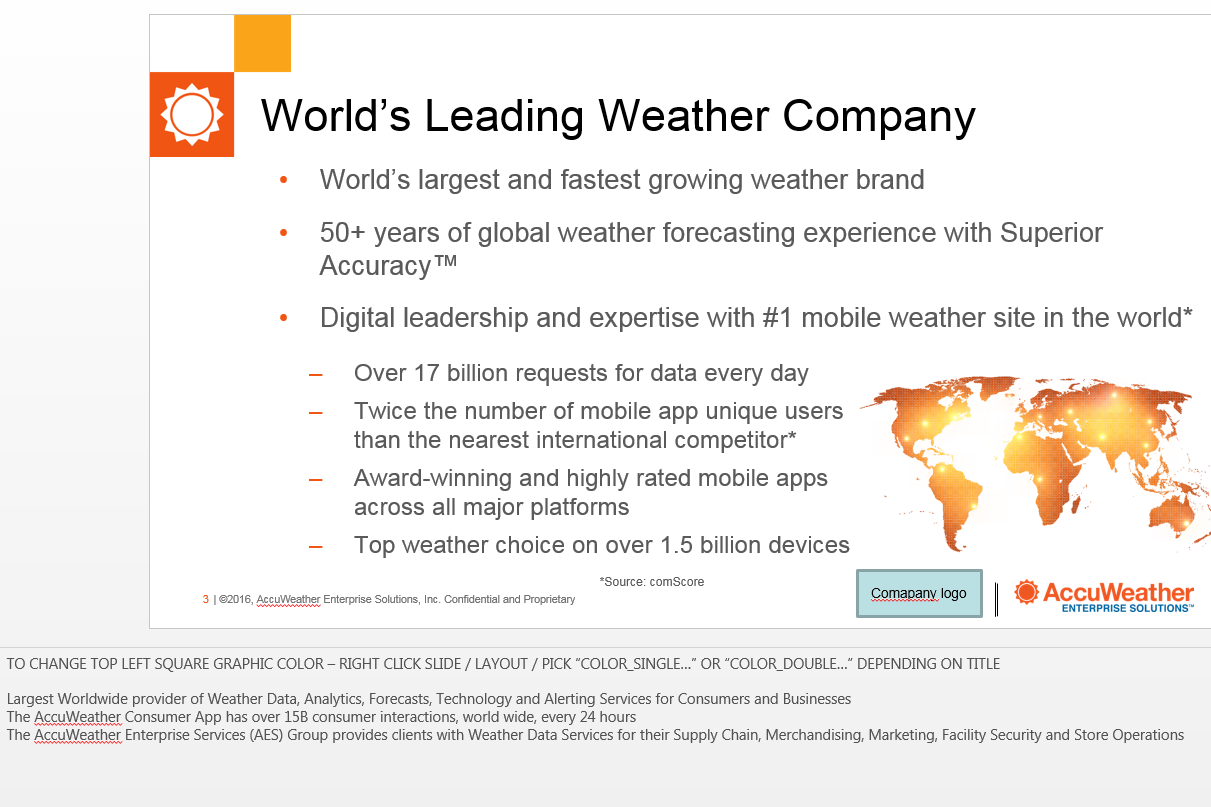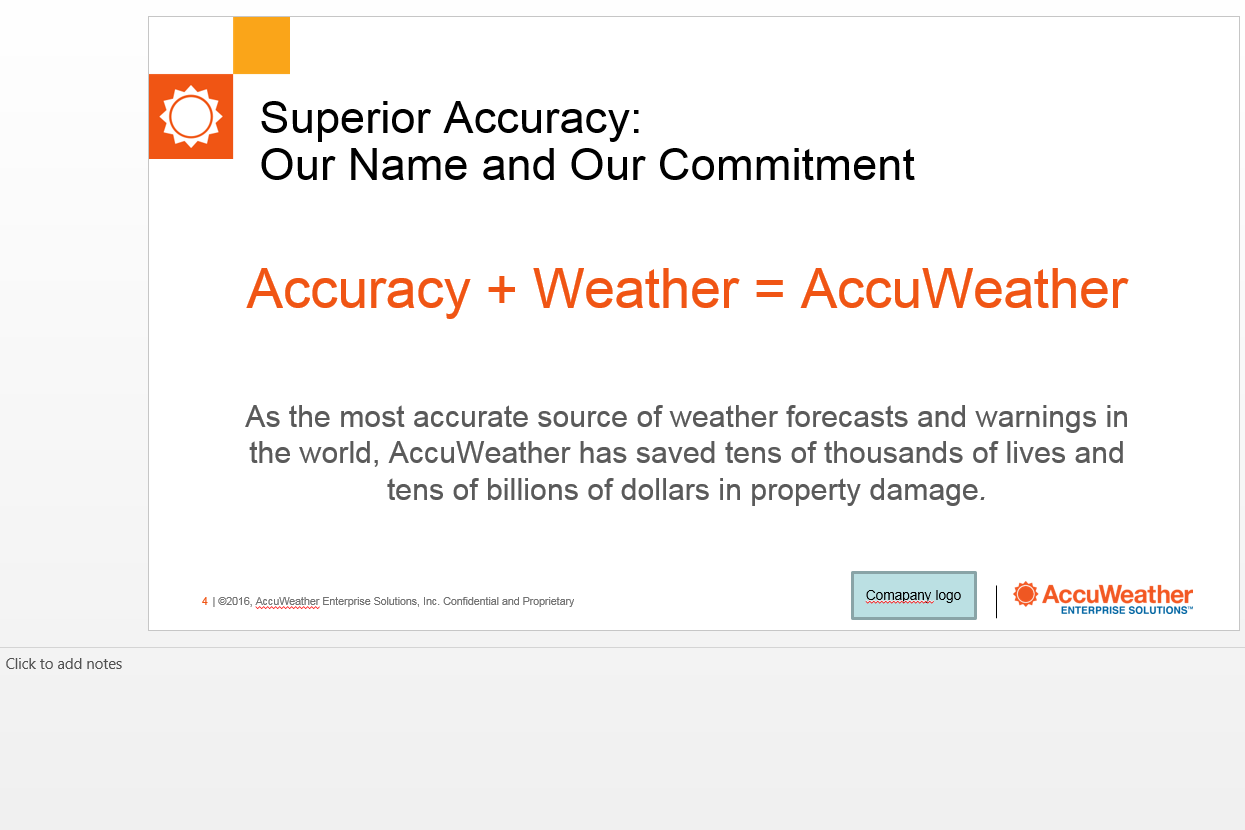 NEW Image Heavy PowerPoint Template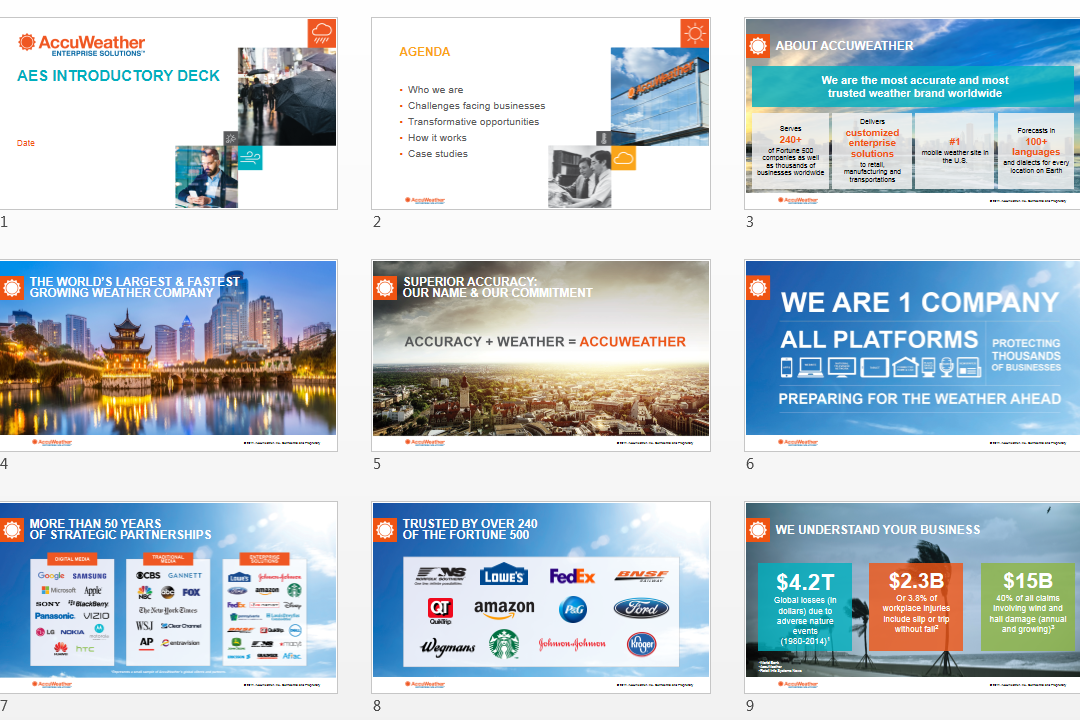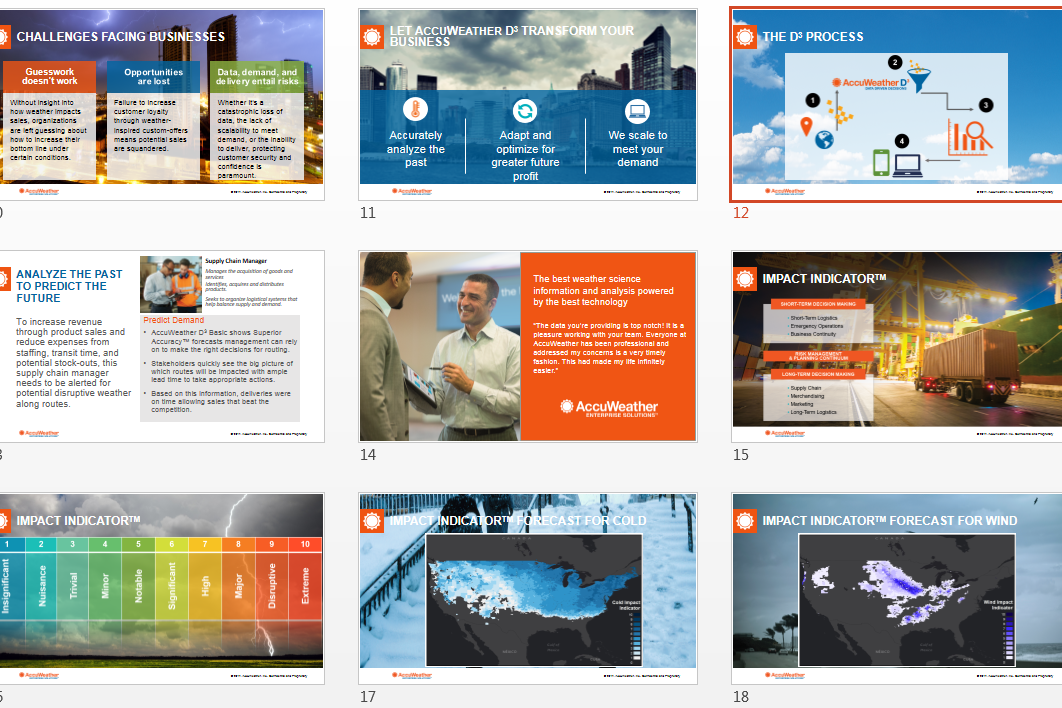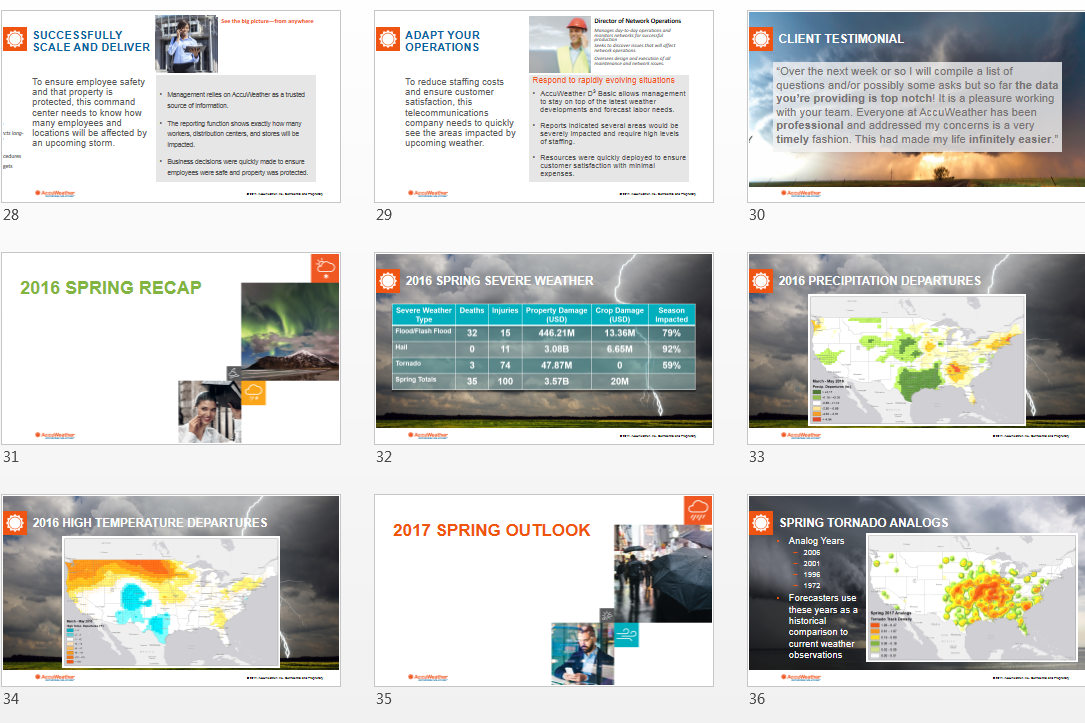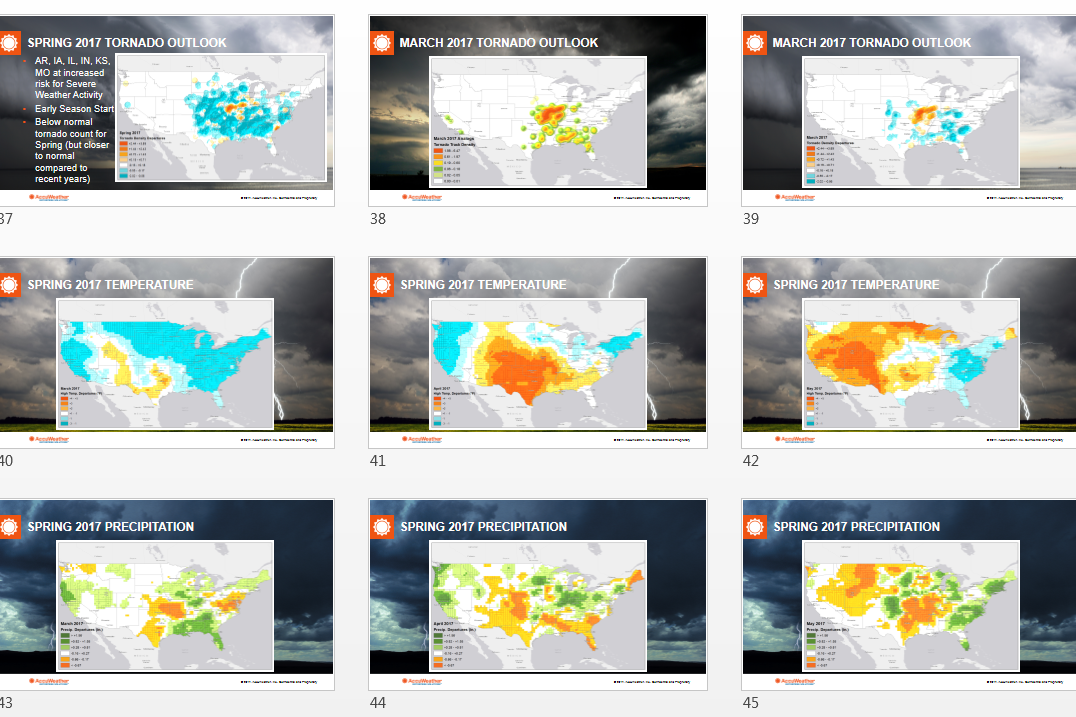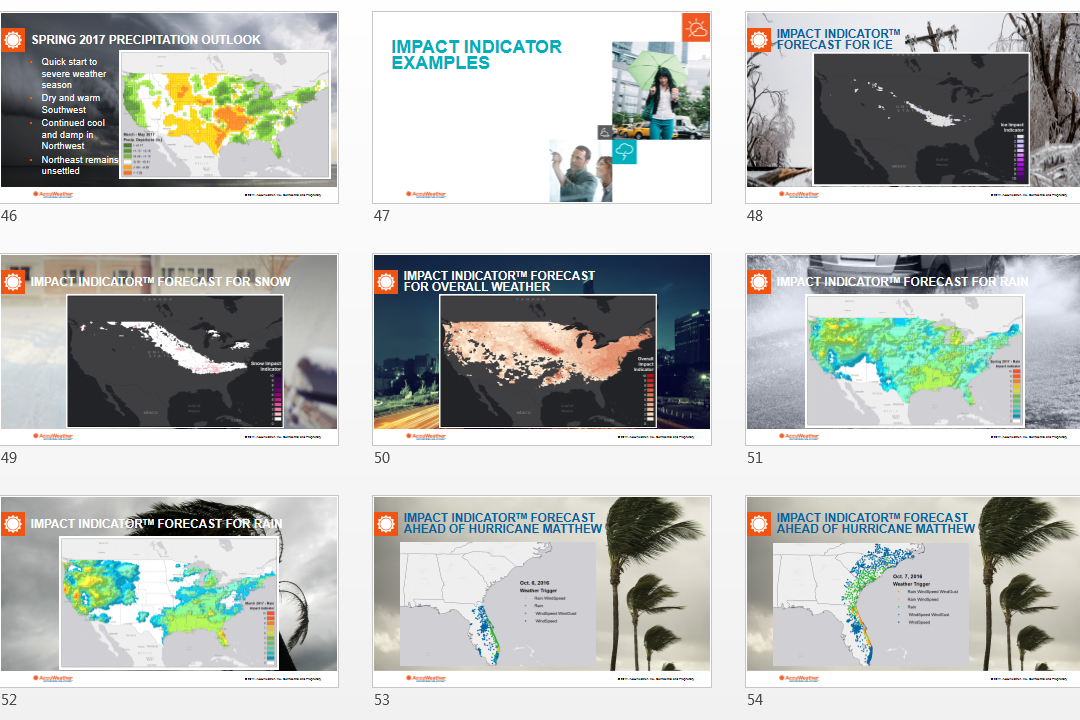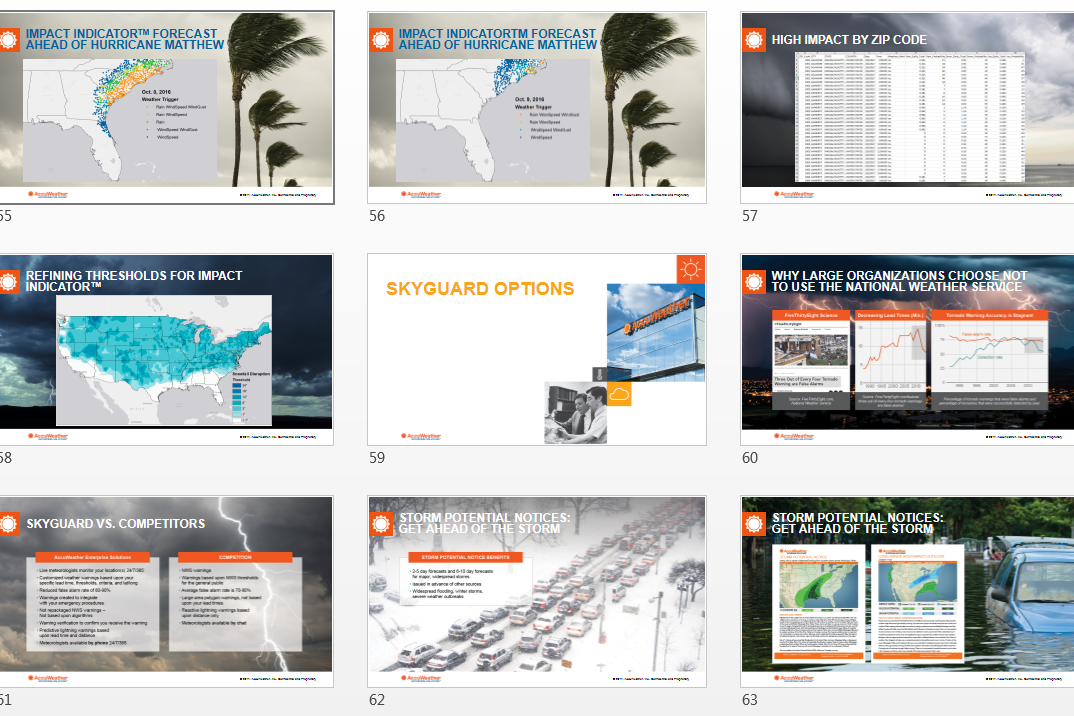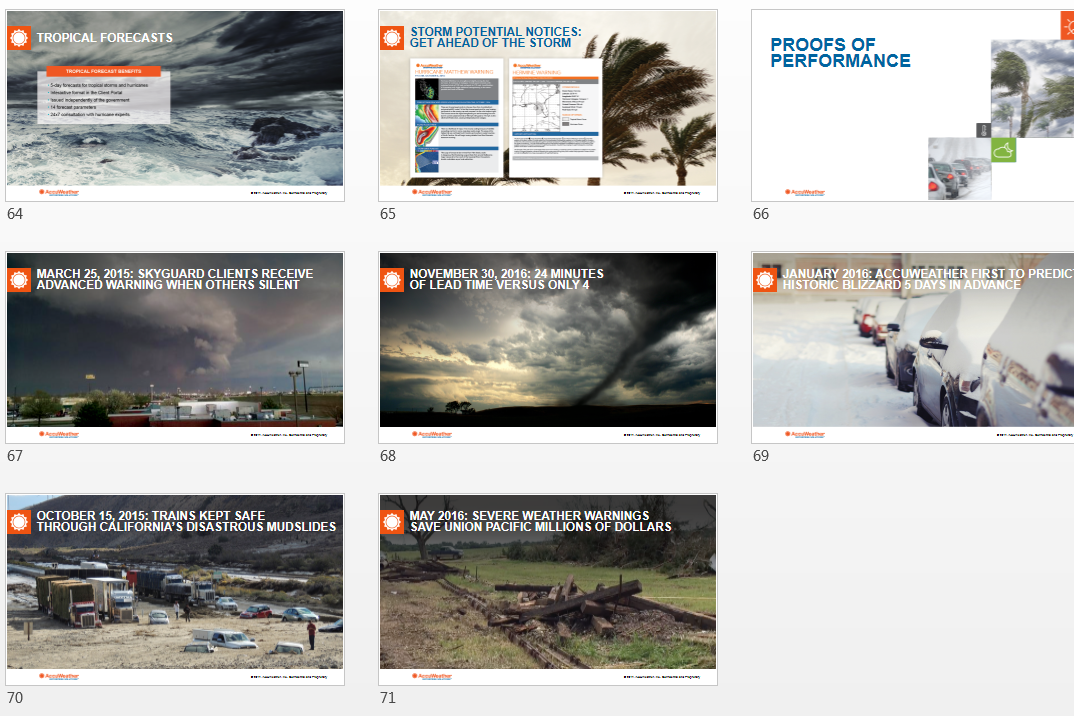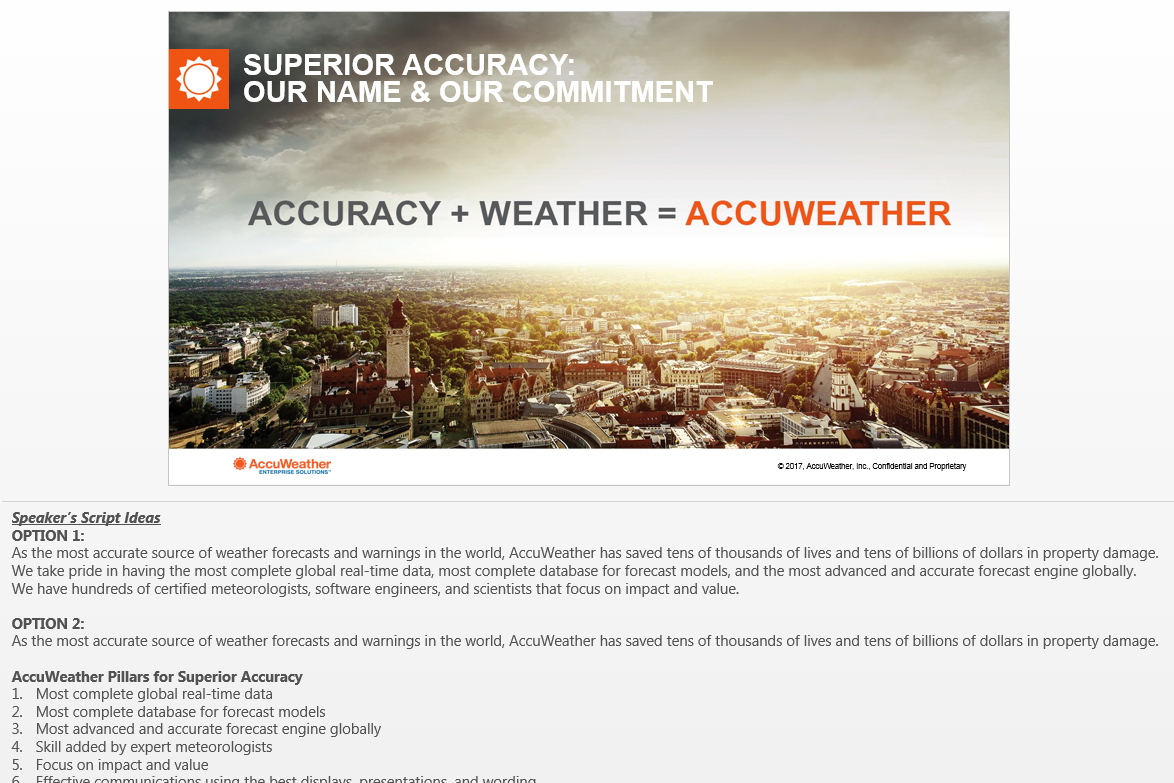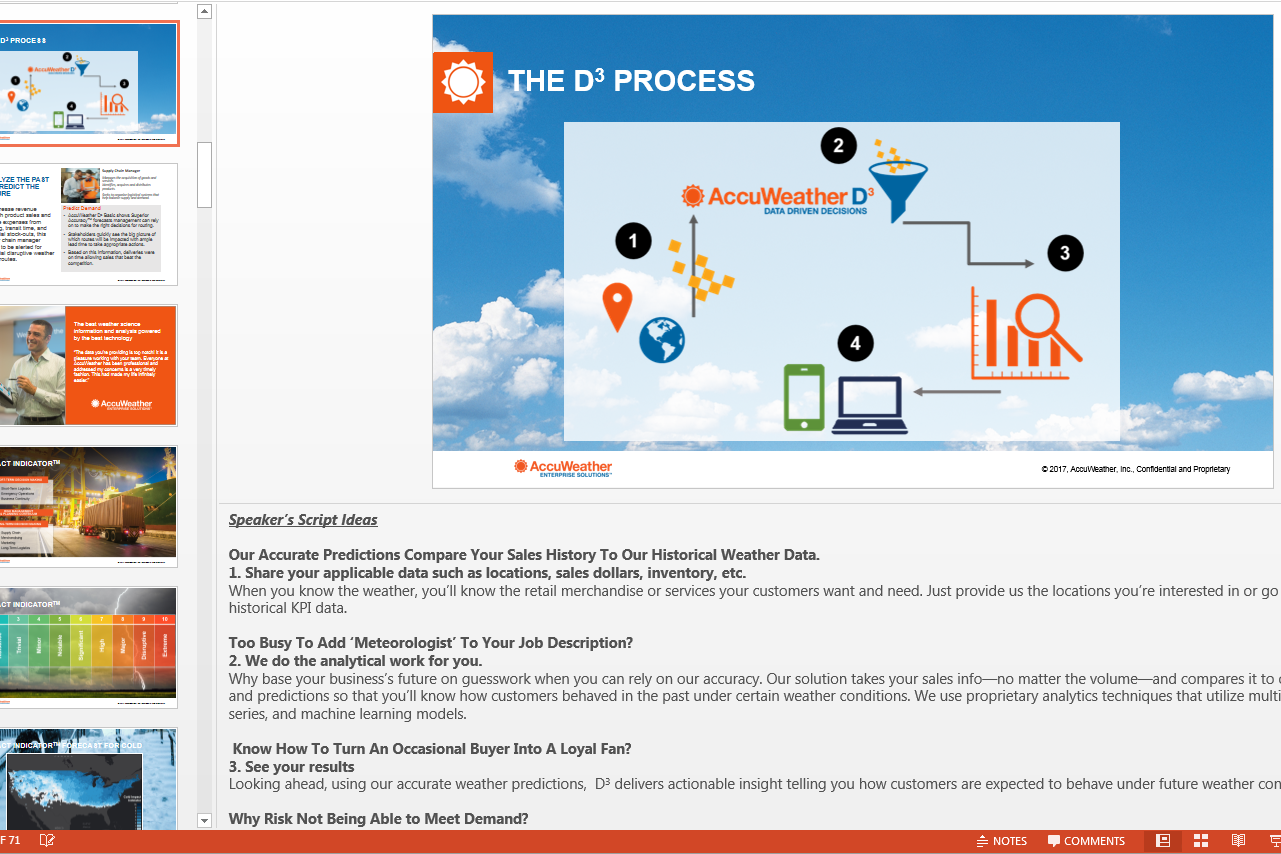 Accuweather D3 Intro Powerpoint Template
These PowerPoint Templates are very similar to the above but include differences with AccuWeather Enterprise Solution logos, and other slight modifications. These do not have image tags but they would be nearly identical to the image tags in the AES Generic templates above.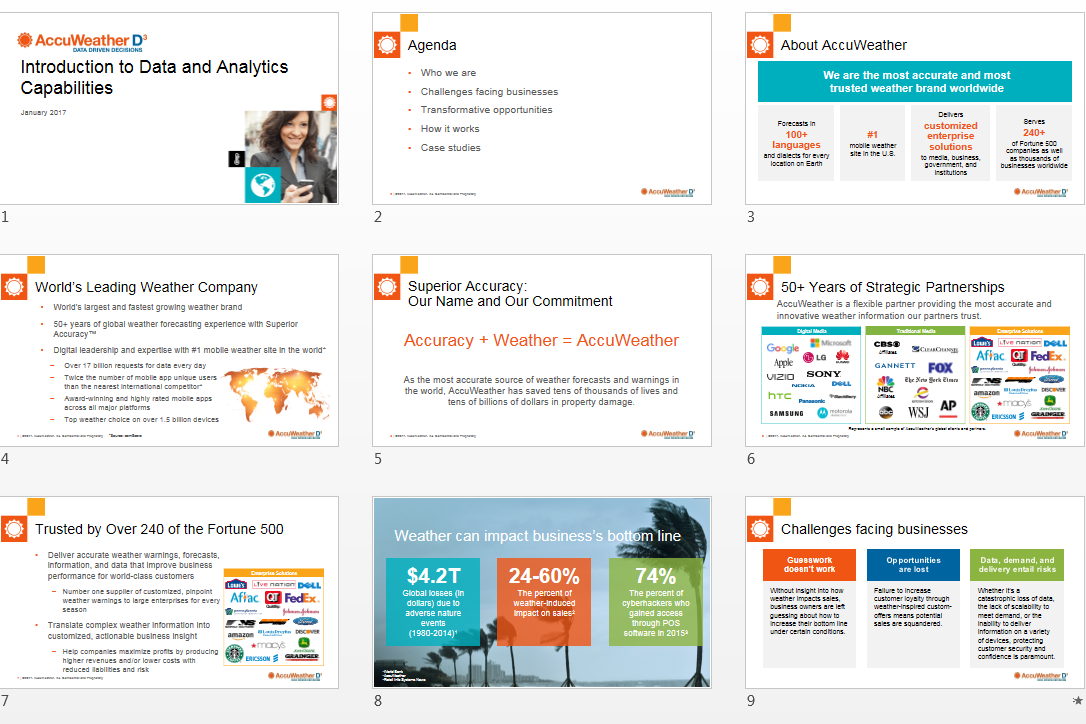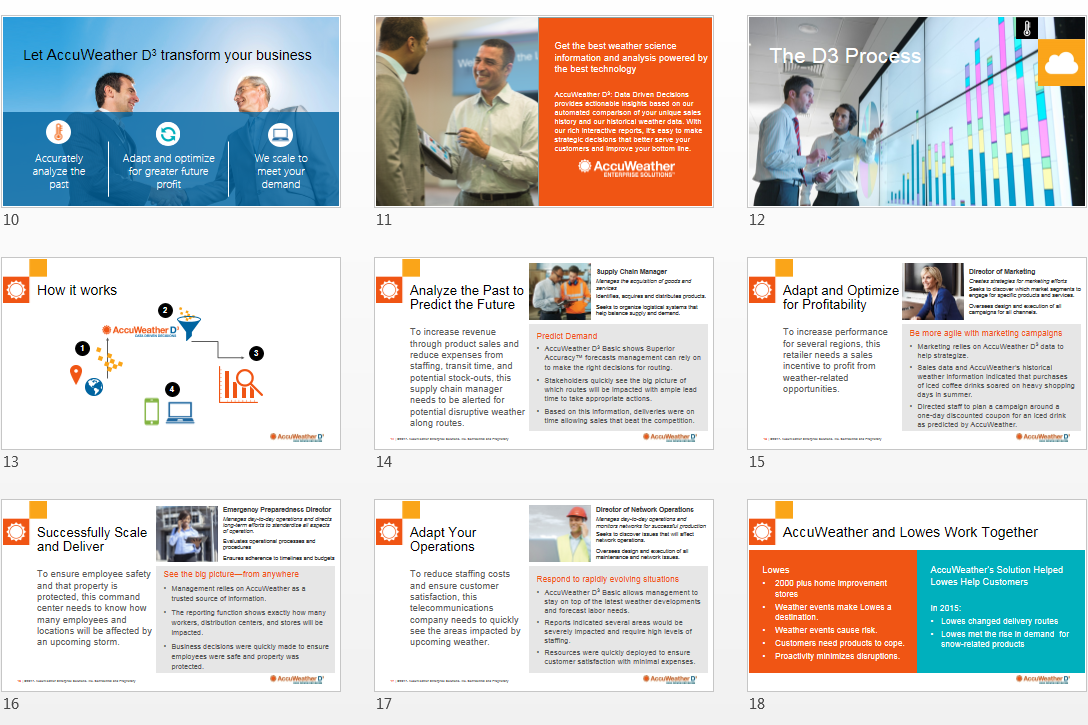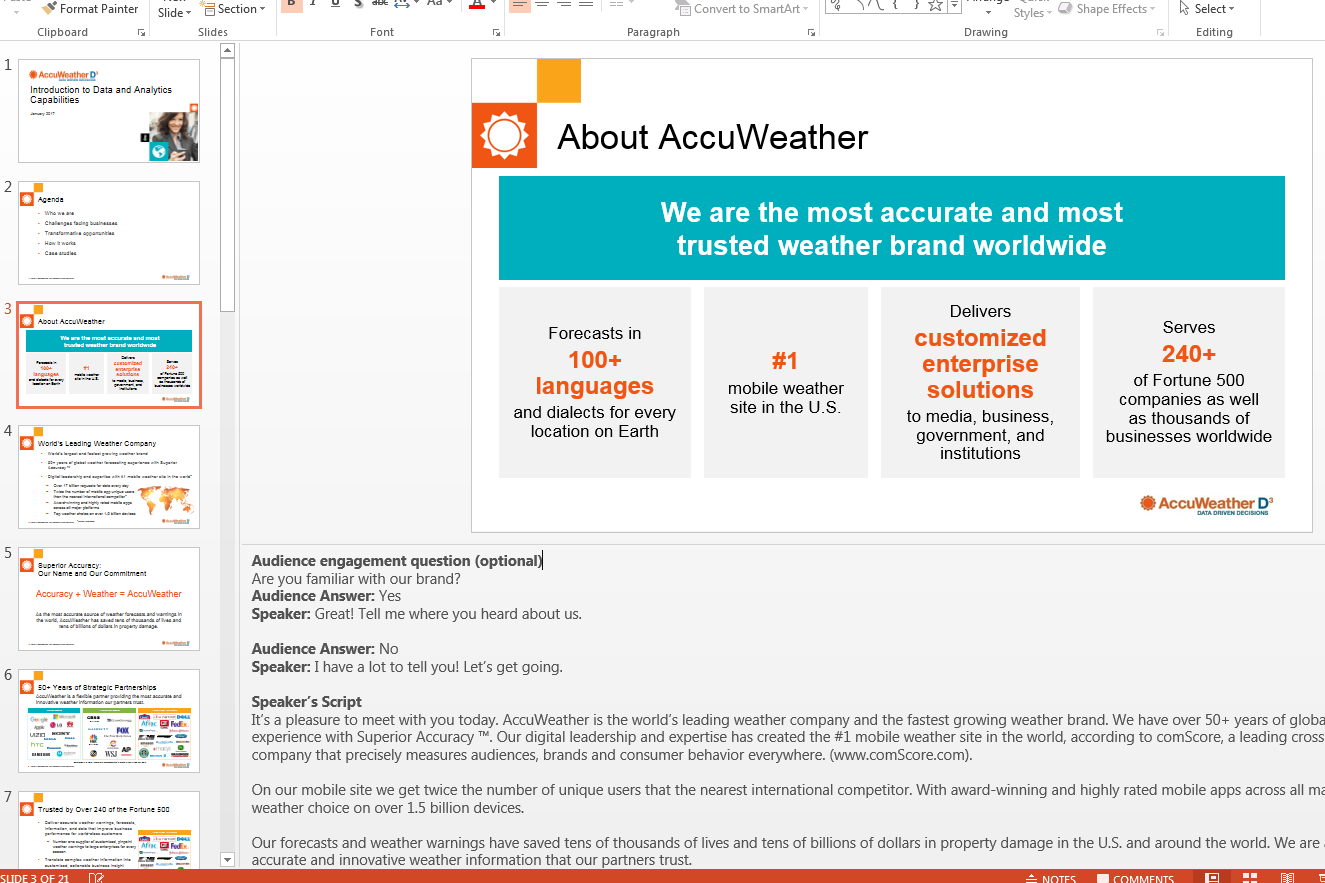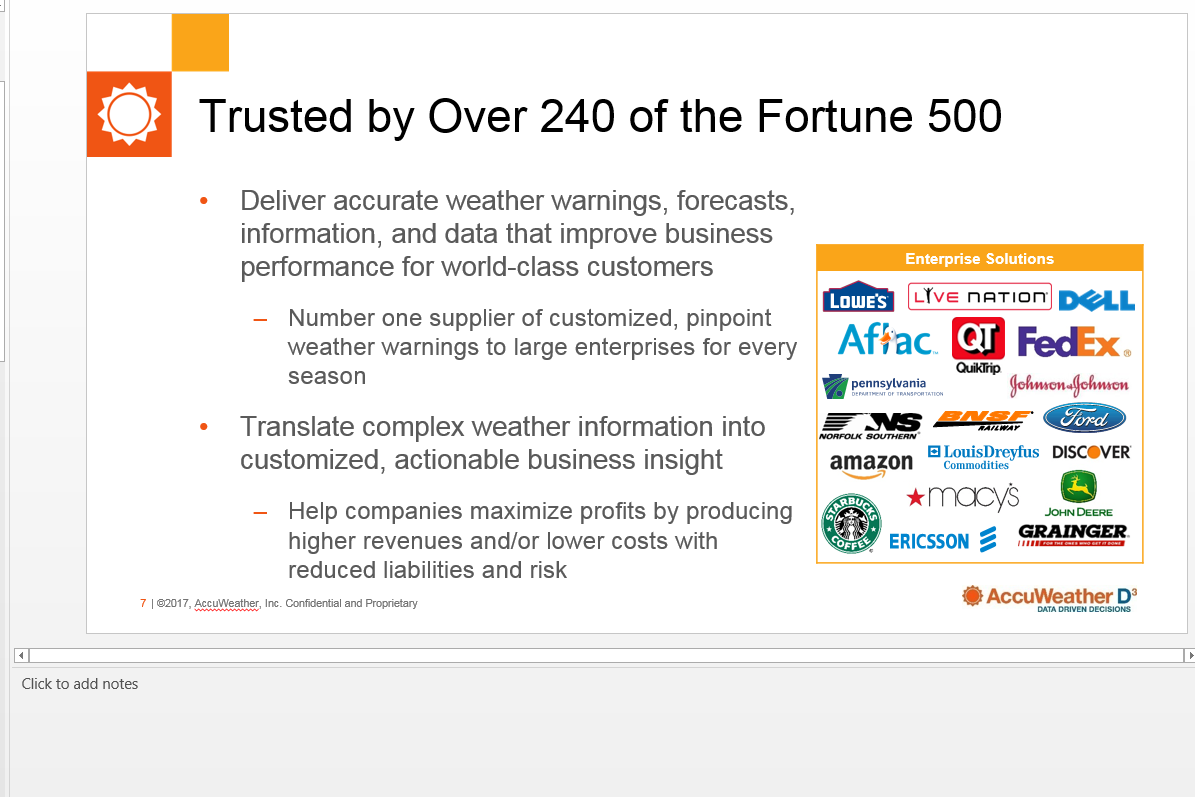 NEW Image Heavy PowerPoint Template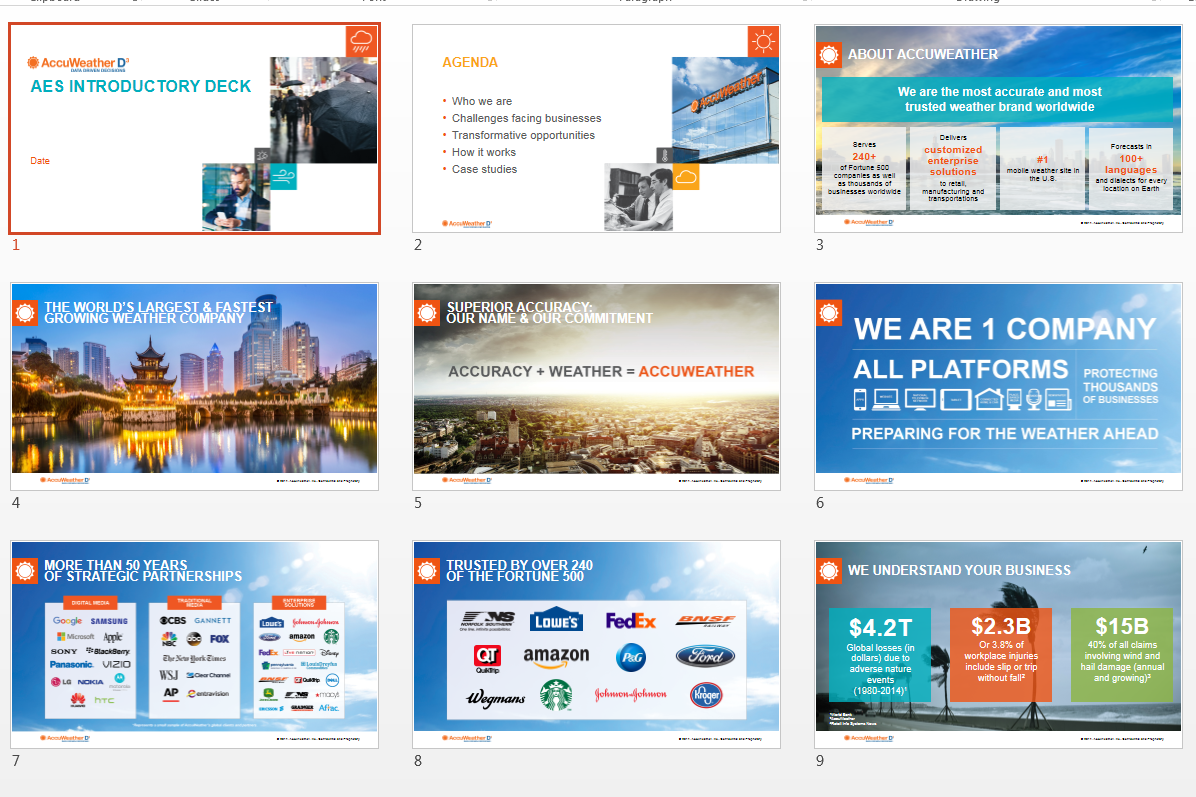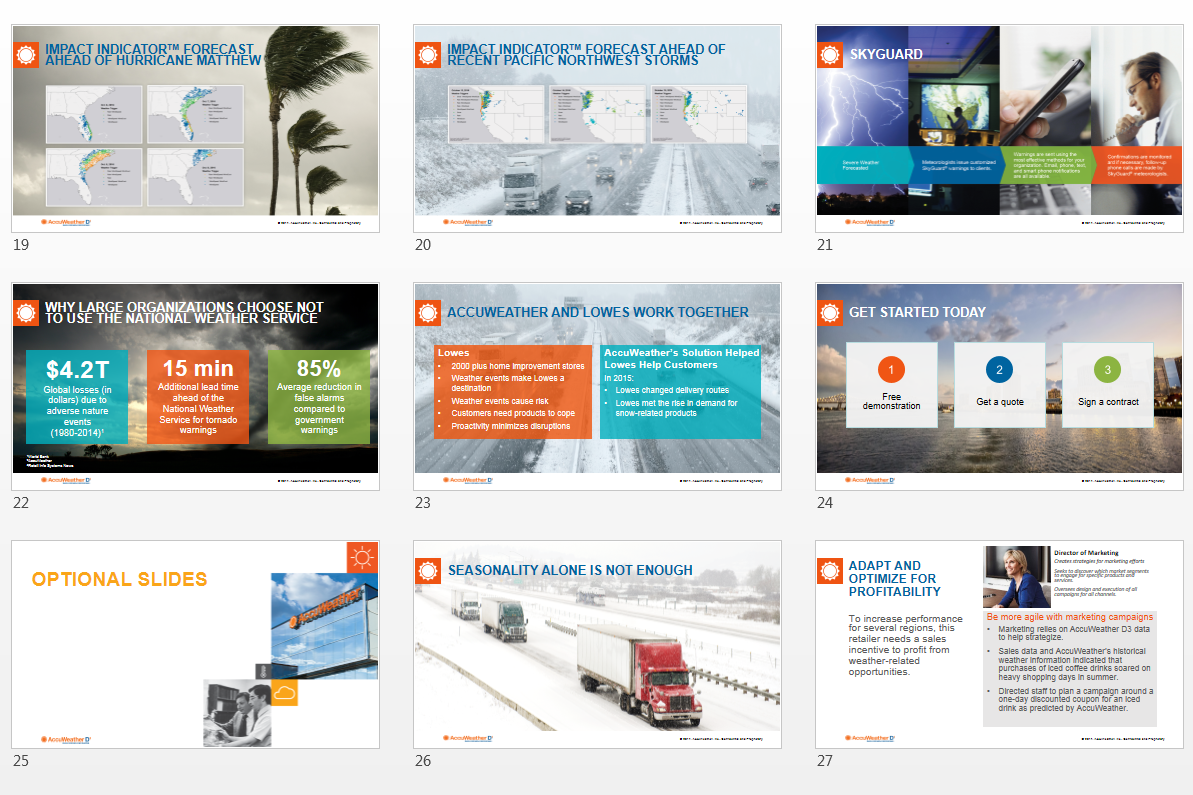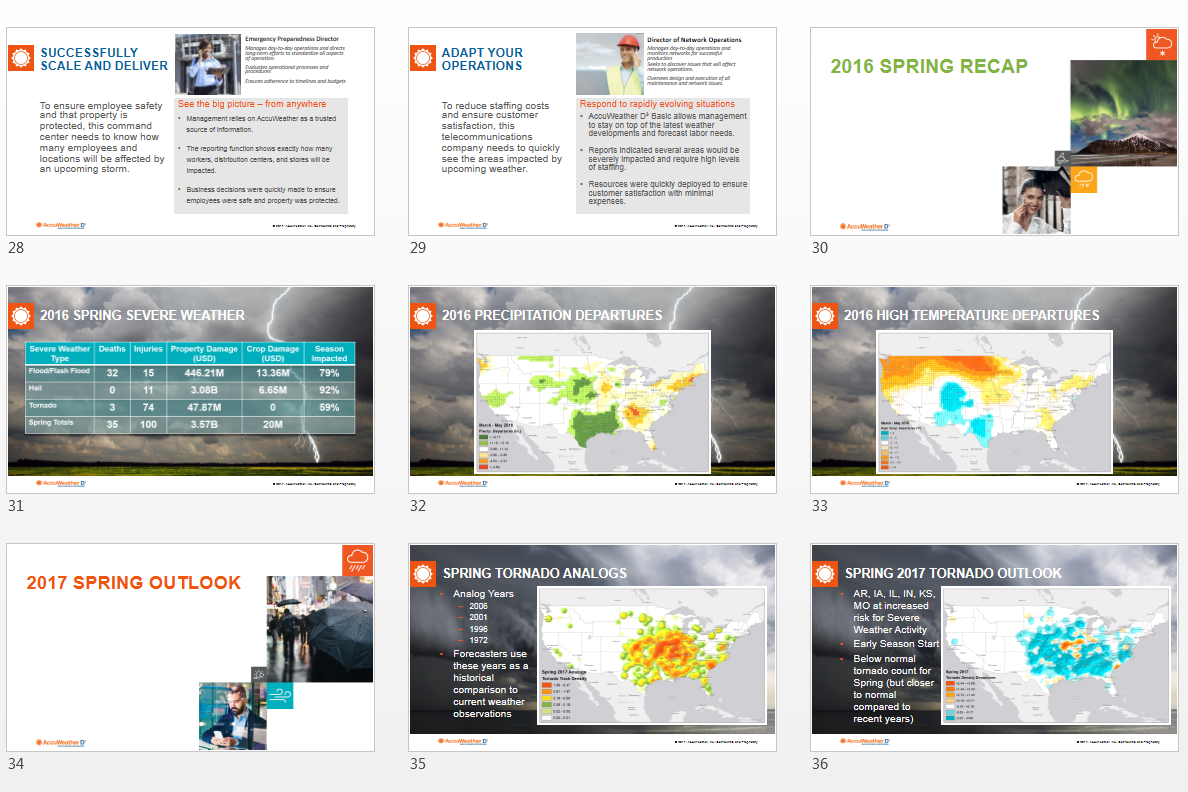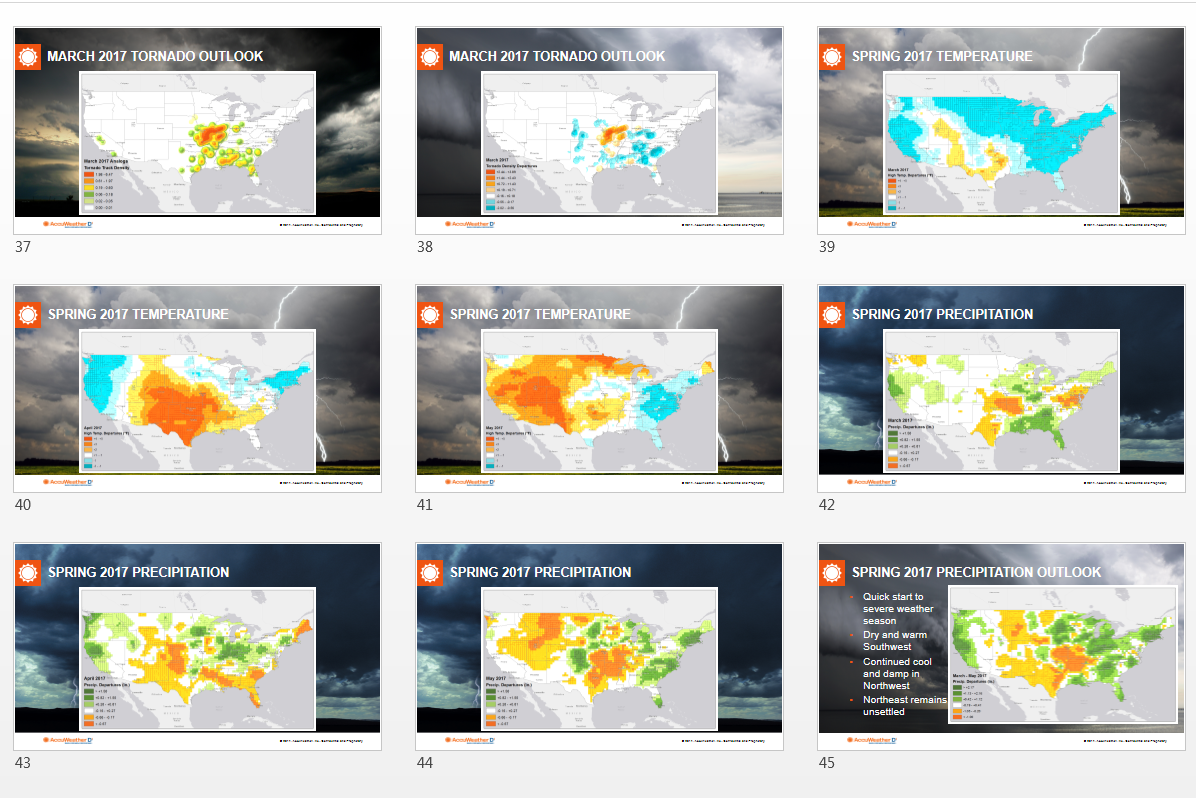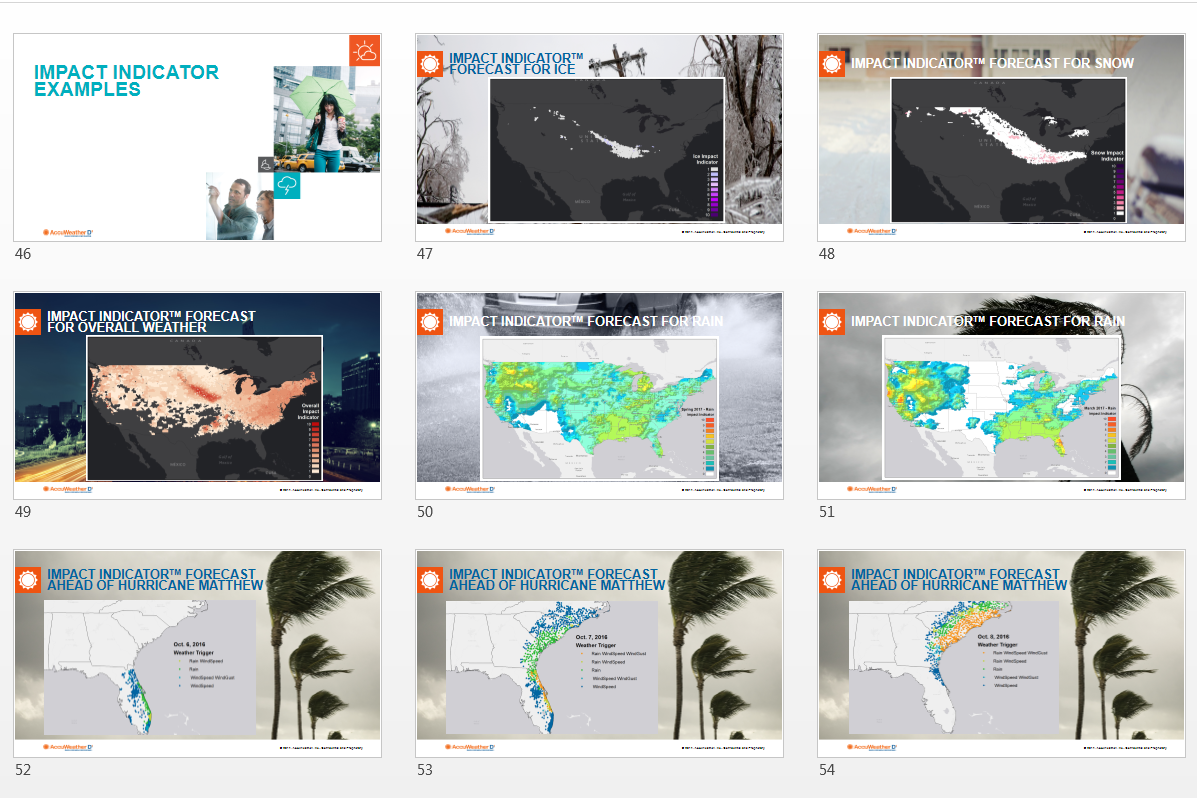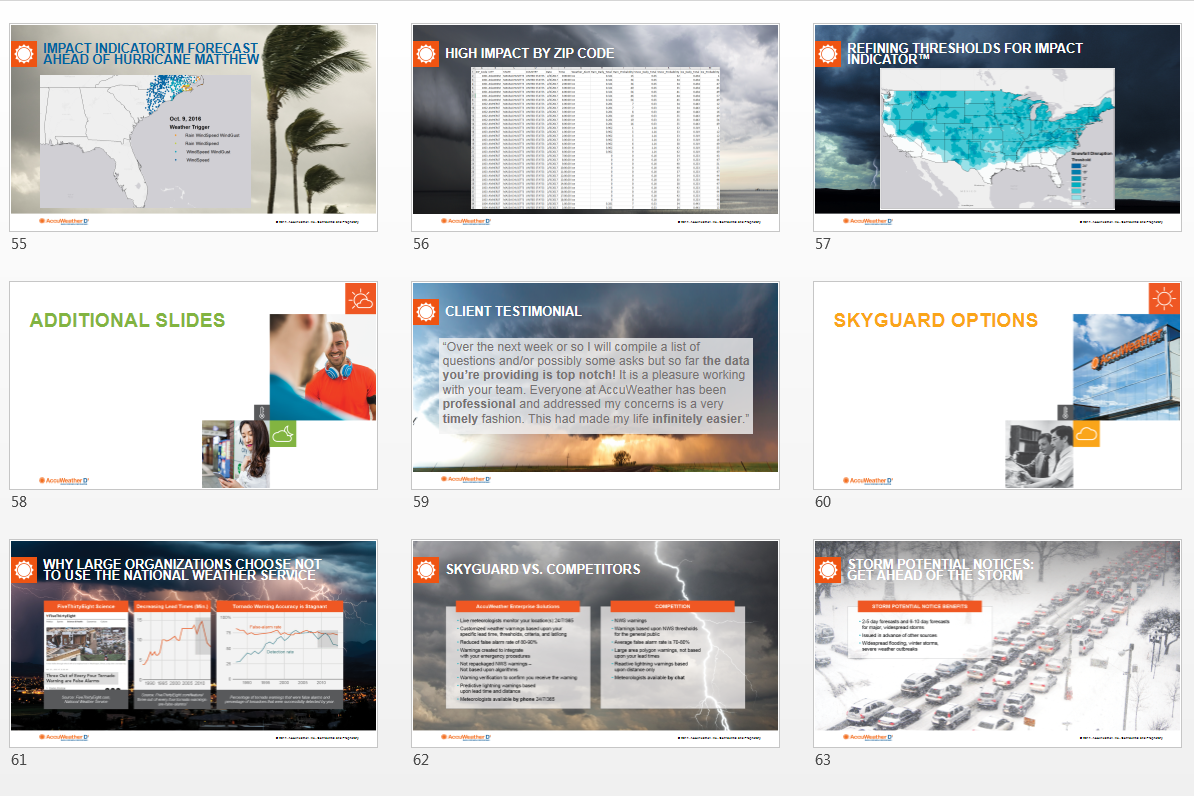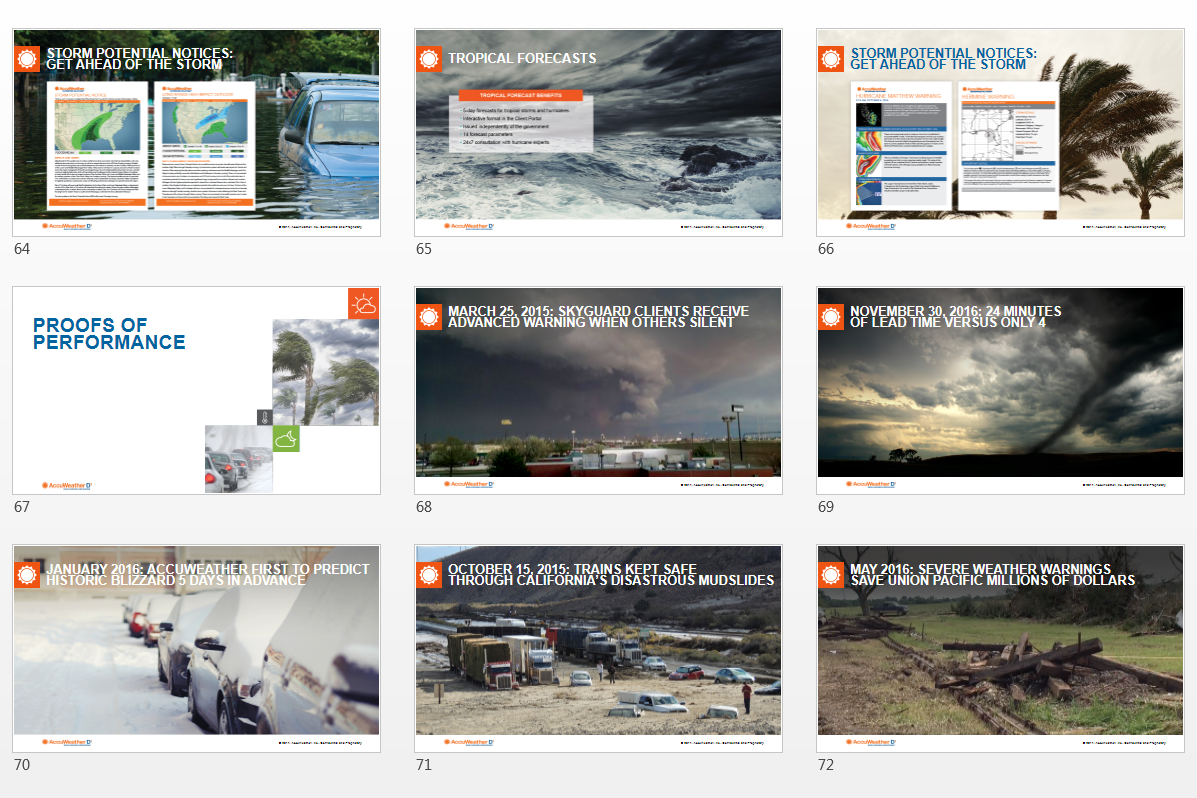 Training co-workers on New Templates
I am currently in the planning stages, with help from my boss and Marketing, on how best to assist and train Sales, Administrative, and Meteorology staff on best practices with these templates. Images, formatting, and content have been pre-approved by Analytics and Marketing. The most difficult part will be getting the staff bought into how to create new slides within these templates so that AccuWeather standardization is kept in place. Staff should no longer simply cut and past a slide from an old PowerPoint into these new, image heavy templates.