AES D3 PRODUCT ROADMAP
The AccuWeather Enterprise Solutions' D3 Product Roadmap is a shortened moniker for our Database Migration and sunsetting of legacy products and it has been a true labor of love for me and my team. From my first days at AccuWeather in August 2016, I have been helping with getting us to today! We are still very much in the early stages of the process, but true progress has been made. We have streamlined our D3 products into three tiers of service levels - this provides enhanced scalability between tiers but also within each tier, and will allow us to keep a standardized product line across many software platforms including Microsoft, Google, Esri, our proprietary portal, and more. The streamlined scalability of D3 means that we will be able to provide standardization and automation across product lines and software platforms to best support our clients. I have assisted in roadmapping the creation of our three tier D3 Product Line. Below, I'll discuss the various steps and my roles in transitioning from WeatherBank to the updated D3 Product lines and roadmap. Working with Microsoft and a third party, the AccuWeather powered by Microsoft D3 Product website will launch on May 10th, 2017 which was developed from my work with Power BI. This will feature our D3 Express product with weather impacts and basic weather metrics provided to clients.
In 2015, AccuWeather purchased WeatherBank and slowly began the process of migrating/integrating WeatherBank data, analytics, and products to the D3 group at AccuWeather Enterprise Solutions. My initial tasks included determining who were WeatherBank clients then cataloging and organizing the WeatherBank legacy clients and products into a clear and understandable spreadsheet. WeatherBank had over 300 weather metrics spread across more than 300 products, and delivered to more than 130 clients but we did not know the details for any of this and had to start with confirming just who were still clients. This was a major undertaking that required communication and cooperation with many different departments and business units including WeatherBank, AES, Accounting, Sales, and upper management. I had to pour through old WeatherBank websites, excel spreadsheets produced for WeatherBank clients, and other sources to compile a master list that includes every client, what weather metrics and products they receive, and how they receive this data.
After compiling the spreadsheet, we looked at how to streamline the metrics and products WeatherBank legacy clients receive and how to integrate them with current AccuWeather Enterprise Solutions clients and produts. This lead to seeing the best option for moving forward is to develop a three-tired product line that streamlines, standardizes, and automates our data delivery to clients in a logically scalable manner. By working in the weeds of the WeatherBank data, I have been able to easily provide details and explanation to help my boss further develop the D3 Product Roadmap. It is not only important to provide quality data to clients, but we see the value and ability to increase AccuWeather revenue by providing clients with scalable compelling customization of visualized data. With multiple tiers of service, AccuWeather will be in a position to provide clients with scalable solutions that range from D3 Express (we provide data to the client plus basic customer data with no analysis or customization - SEE VIDEO BELOW) to the middle tier, D3 Advanced (client provides us data to analyze with our data, some customization allowed) to the D3 Tailored line (full customization). AccuWeather D3 Powered by Microsoft can be found at d3.accuweather.com.
This presentation will take you through the multiple steps: 1) Tour of a WeatherBank website from the client perspective, 2) Brief look at the master spreadsheet I helped develop for my Analytics team, 3) Examples of the D3 Express Powered by Microsoft Power BI, and 4) Prototype examples of the D3 Express "plus" and Advanced products in Microsoft Power BI.
A video demo of a simplified version of the Power BI report can be found here.
Part 1: WeatherBank Client Site Tour
Part 1 includes the above and below images that walk you through various pieces of a WeatherBank (WB) client-facing website. Many WB legacy clients still have operating websites in this format but we are working to convert them over to the AccuWeather portal and other platform options.
The above photo is the homepage for a client's WB site. The below images include views of the weather forecast provided as an excel spreadsheet, precipitation maps, radar, Departure from Normal (DFN) of temp and precipitation, National Weather Service (NWS) warnings, and more.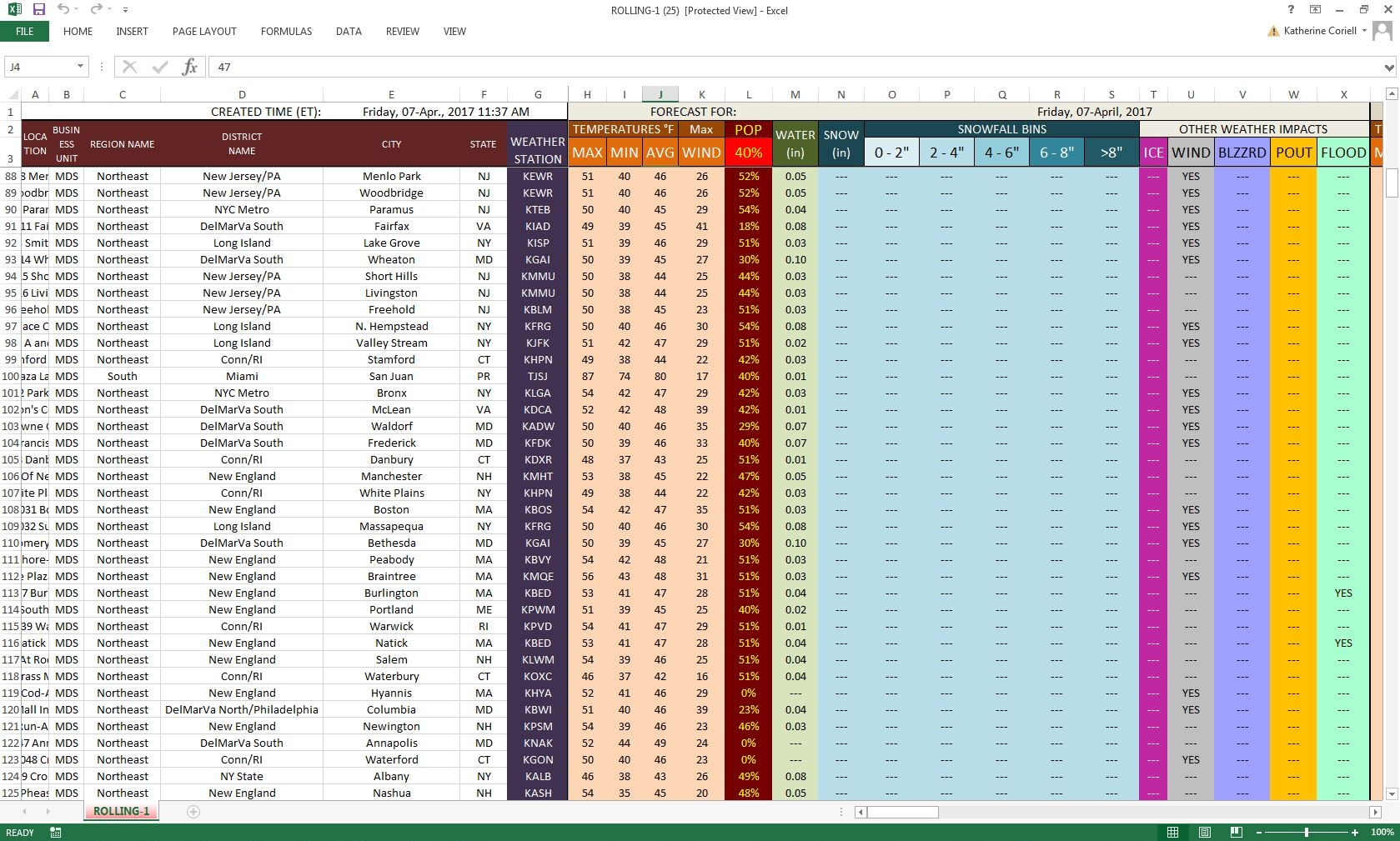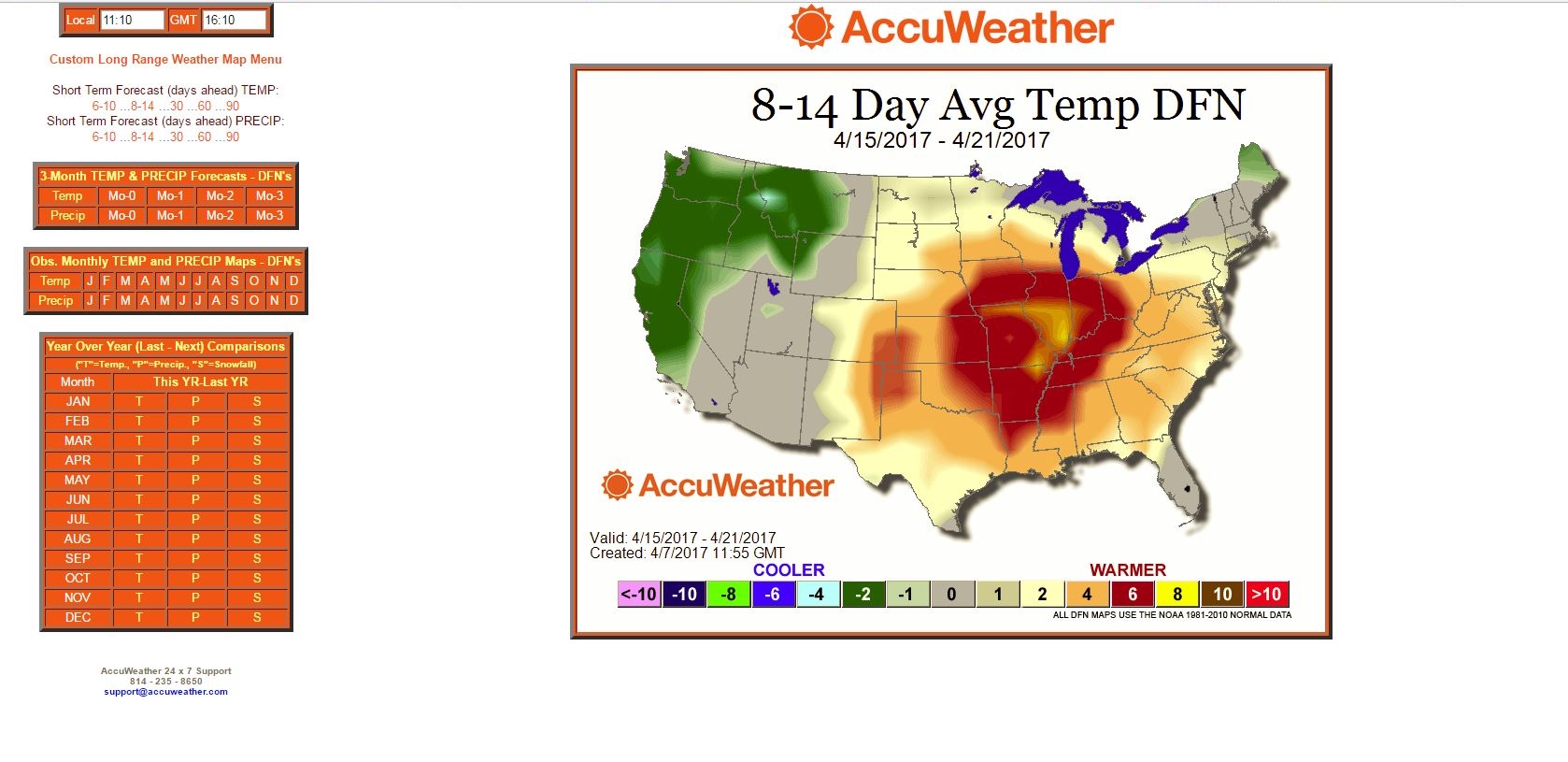 Part 2: WB Master Spreadsheet
Due to client confidentiality, I can only show brief snippets of the Master WB spreadsheet. The first one below shows just some of the WB clients and the weather stations they want data from, and the second is a glimpse of the 300+ weather metrics we are able to provide to clients.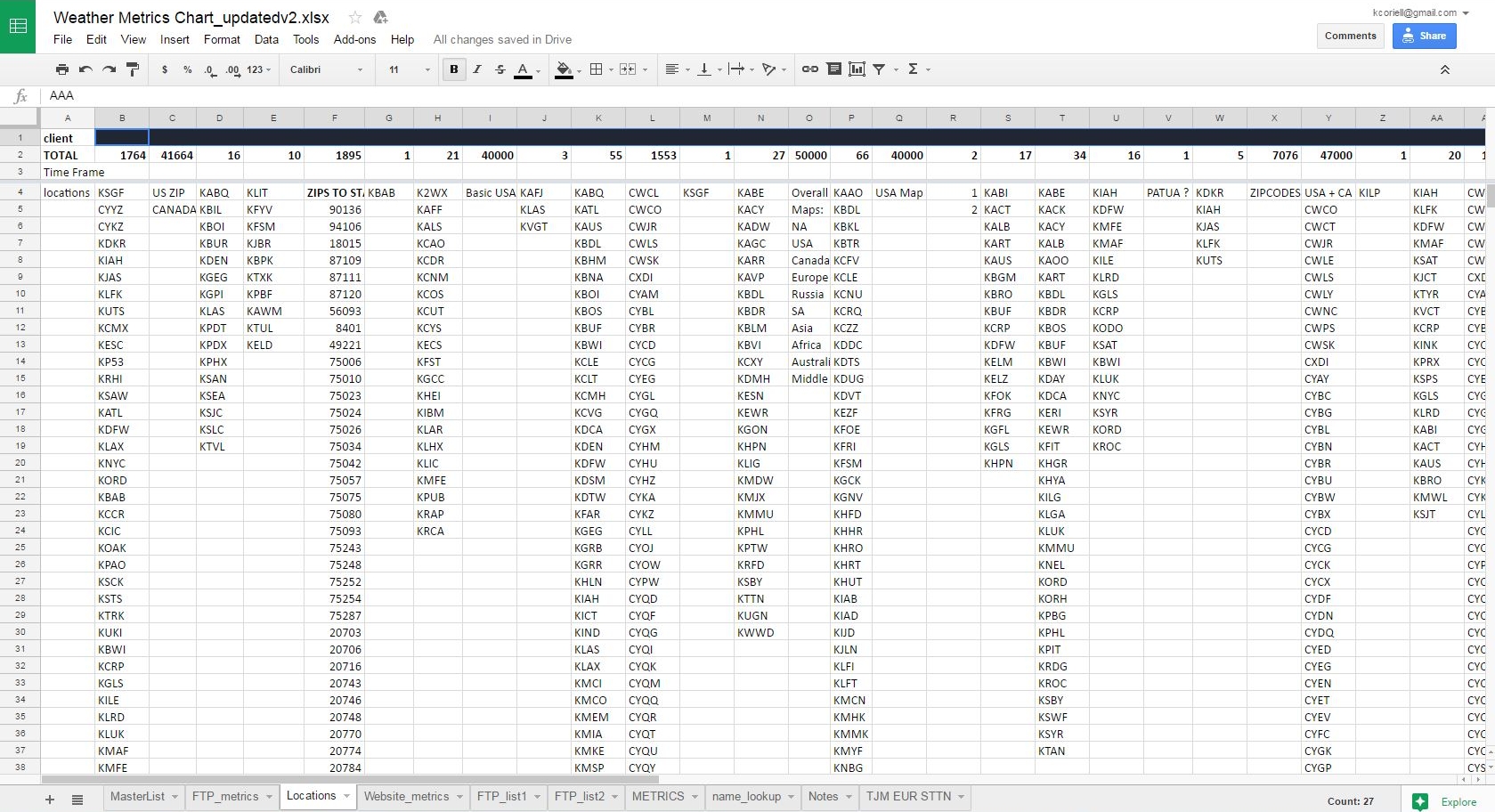 Part 3: D3 Express in Microsoft Power BI
D3 Express powered by Microsoft Power BI will roll out with the proprietary AccuWeather Impact Indicators mapped as zip codes. This is the most basic level of product AccuWeather D3 will be providing to clients. The Impact Indicators cover hot, cold, wind, rain, snow, ice, and overall forecasted up to 10 days in advance. Clients will be able to choose how many specific zip codes they would like to receive. The next steps within D3 Express will include options for weather extreme forecasts and typical weather forecasts everyone is used to seeing such as high temp, min temp, precip, wind, humidity, etc. Below are images of the D3 Express Impact Indicators powered by Microsoft Power BI.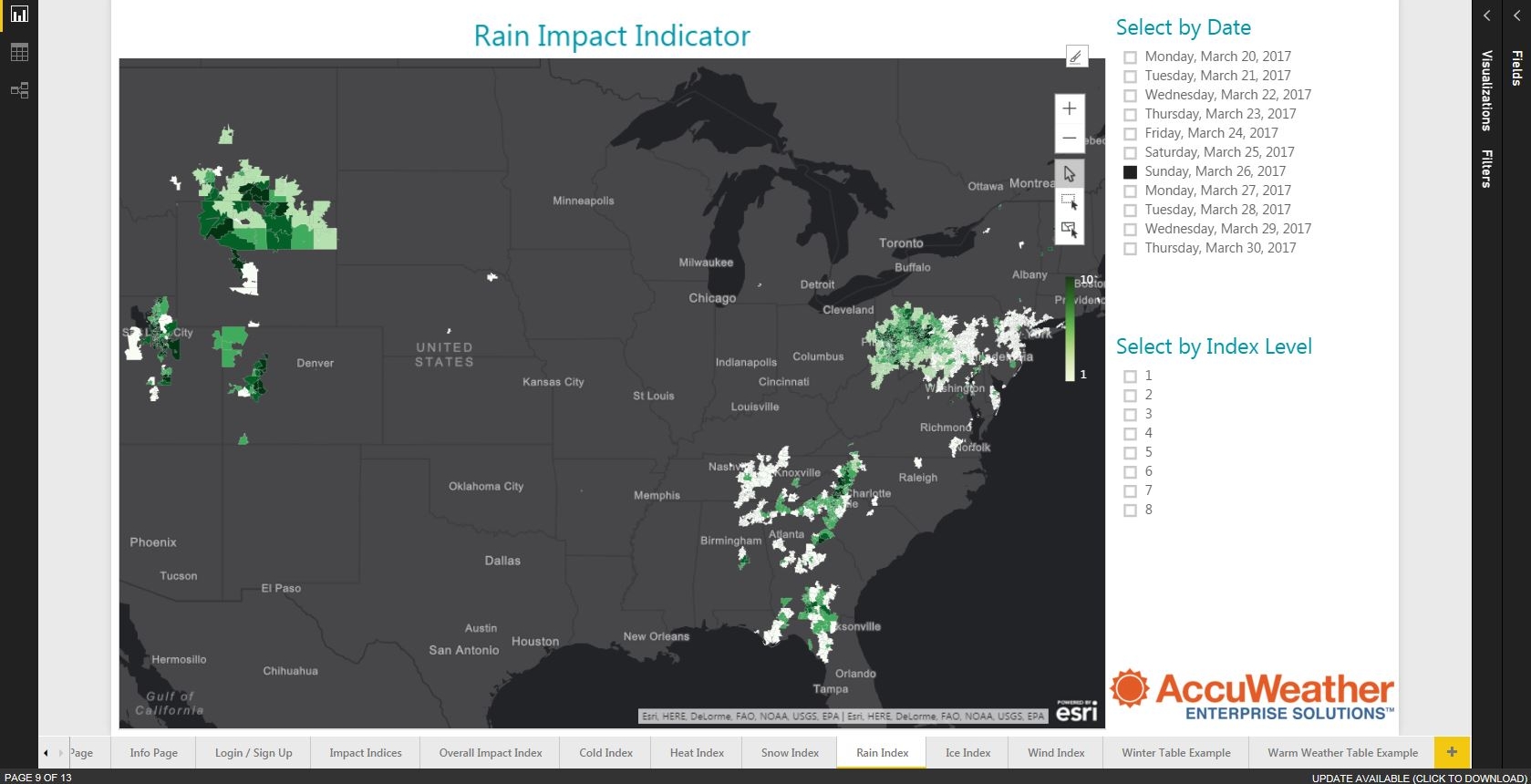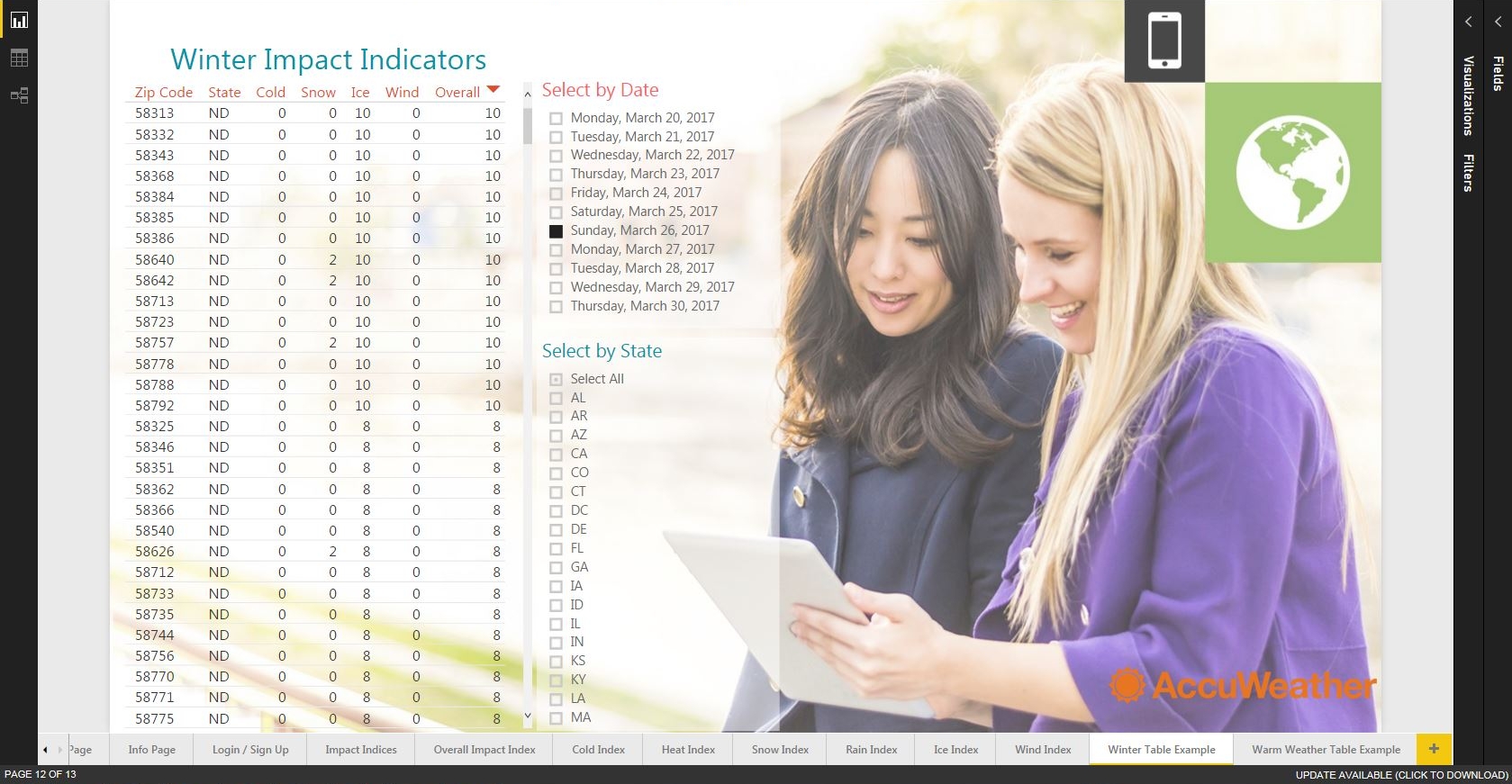 Part 4: D3 Express "plus" and Advanced Prototypes in Microsoft Power BI
AccuWeather D3 Advanced is the middle tier of the D3 product line. Weather impacts on retail sales range from 20-60%, and we have seen hundreds of billions of dollars in economic losses each year. D3 Express clients can provide static location-based data to see how that is impacted by weather without analysis. D3 Advanced is geared towards clients who want true analysis of their data combined with our weather data but do not need a fully customizable solution that is D3 Tailored.
With D3 Advanced, we combine our weather data and data science expertise with the client's data (retail sales, website/app metrics, transportation, logistics, etc.) to provide better understanding of the impact of weather on a client's bottom line. Below are prototyped examples of D3 Express "plus" and D3 Advanced powered by Microsoft Power BI for a fake home improvement store and for AccuWeather.com and its app.